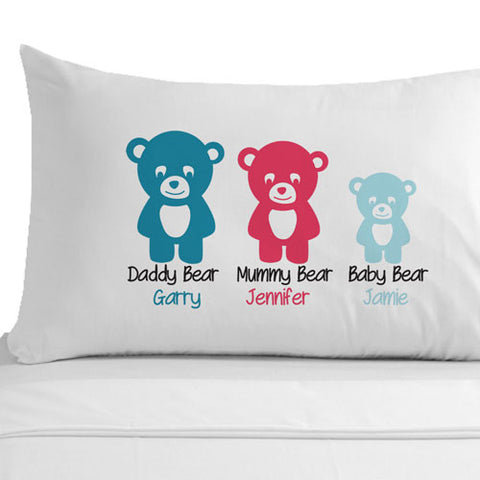 Personalised Baby Boy Pillowcase
Daddy Bear, Mummy Bear and Baby Bear pillowcase is a cutesy gift for a new born baby. It features a daddy bear, mummy bear and baby bear design along with the family's names. There is also a pink baby bear option available.
Features: 
*White pillowcase 
*High quality super soft pillowcase 
*Each pillowcase is luxury Egyptian cotton 
*The printing method leaves the text soft to touch so there is no 'rubbery' feel to the print. 
*The pillow is not included with this gift  
*Dimensions: 50 x 75cm so it fits any standard sized pillow
Washing Instructions: Use a Cool Machine Wash and turn inside out to get the most out of the printed pillowcase.
Personalisation Guidelines: Daddy's, Mummy's and Baby's First Names (Please note longer names will appear smaller).
DELIVERY: Usually Despatched Within 3-5 Working Days